When Cody Coffman left home Wednesday night, his dad cautioned him not to drink and drive. But what unfolded after he headed out for the Borderline Bar & Grill never crossed his father's mind.
Coffman, 22, was one of 12 people shot to death in the latest mass shooting in America. A lone gunman opened fire late Wednesday night with a .45-caliber handgun in the packed bar in Thousand Oaks, California, on what was billed as "college night."
"I talked to him last night before he headed out the door. The first thing I said was don't drink and drive. The last thing I said was, 'Son, I love you,'" Coffman's father, Jason Coffman, told reporters outside a family reunification center in Thousand Oaks. "For me, this is a heart that I'll never get back. My life has changed now forever."
Authorities have yet to confirm all the names of those killed in the rampage allegedly committed by former U.S. Marine Ian David Long.
Other victims were identified by relatives, or in one case, their school.
Sgt. Ron Helus died during a gunfight with the shooter inside the Borderline bar, Ventura County Sheriff's Office officials said. Helus was one of the first deputies to arrive on the scene and rushed into the bar to confront the gunman, officials said.
Victim Alaina Housley was identified by her aunt and uncle, Adam Housley and actress Tamera Mowry-Housley, who released a statement.
"Alaina was an incredible young woman with so much life ahead of her and we are devastated that her life was cut short in this manner," the couple's statement reads. "We thank everyone for your prayers and ask for privacy at this time."
Housley was a student at Pepperdine University in Malibu, the school confirmed in a statement.
"Our hearts are broken with the news of this profound loss," Pepperdine University Vice President for Student Affairs sent in an email to students, alumni and parents. "We offer our deepest condolences to the Housley family and ask that our community join us in keeping Alaina's family, friends, and loved ones in their prayers during this incredibly difficult time."
Dan Manrique, a chapter captain for the Ventura County Chapter of Team Red White & Blue since 2014, was killed in the gunfire, Jacklyn Pieper, athletic director of Team Red White & Blue, told ABC News.
Manrique was a Marine Corps veteran who served as a radio operator in the 2nd Combat Engineer Battalion, 2nd Marine Division and was deployed to the Middle East in 2007 with the 26th Marine Expeditionary Unit, Pieper said.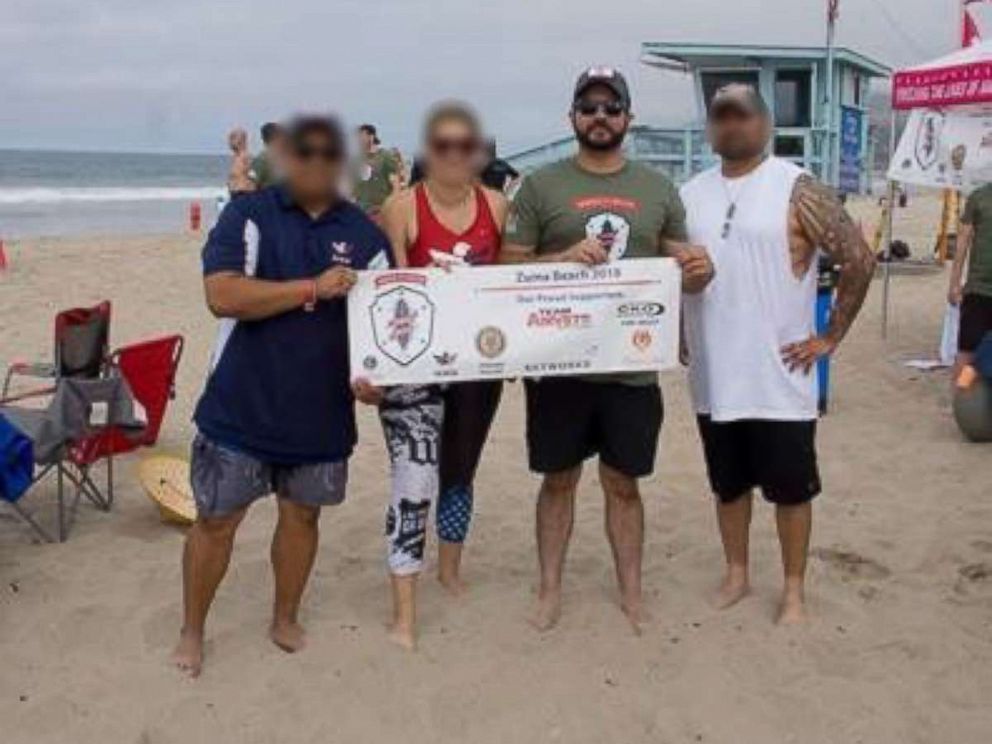 Team Red White & Blue aims to "enrich the lives of America's veterans by connecting them to their community through physical and social activity," according to the website.
The avid Dodger fan most recently worked as a program manager of a veteran representative payee program for a Los Angeles-based nonprofit, Pieper said.
Victim Justin Meek, 23, was identified by officials at Cal Lutheran University in Thousand Oaks, where he recently graduated.
"Sadly, we have learned from the family that a recent graduate, Justin Meek, 23, is one of the precious lives cut short in this tragedy. Meek heroically saved lives in the incident," Cal Lutheran officials said in a statement.
Jason Coffman said his son Cody was about to join the Army and had been talking to recruits and finishing up his paperwork to enlist.
"My son was on his way to fulfilling his dream of serving his country," Jason Coffman said. "There are so many people that he touched that are going to be as heartbroken as me."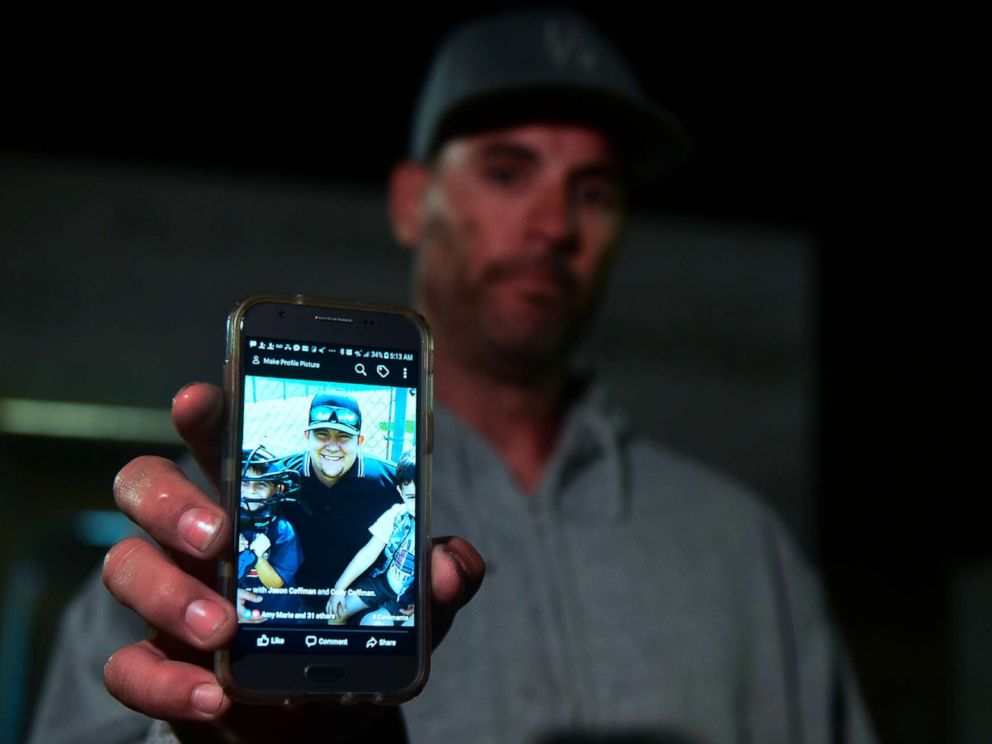 He said he was bracing for more heartache when he tells Cody's siblings, Joshua, 8, Dominick, 6, and Chase, 8, that their big brother is dead. Jason Coffman said he has a daughter, Aurora, on the way and that Cody was excited about her pending birth.
"I cannot believe that this happened to my family," he said. "I don't know what to say to other people that are going through the same situation as I am. I'm sorry for their loss," said the tearful father as he stood next to his father-in-law Mike Johnston.
Coffman said his son was a big baseball fan and that he coached him from Little League through high school. He said Cody had just wrapped up a season of being an umpire in a youth baseball league.
Asked if he had anything to say about the suspected gunman, who authorities believe killed himself in the massacre, Coffman would only say, "I feel sorry for his parents."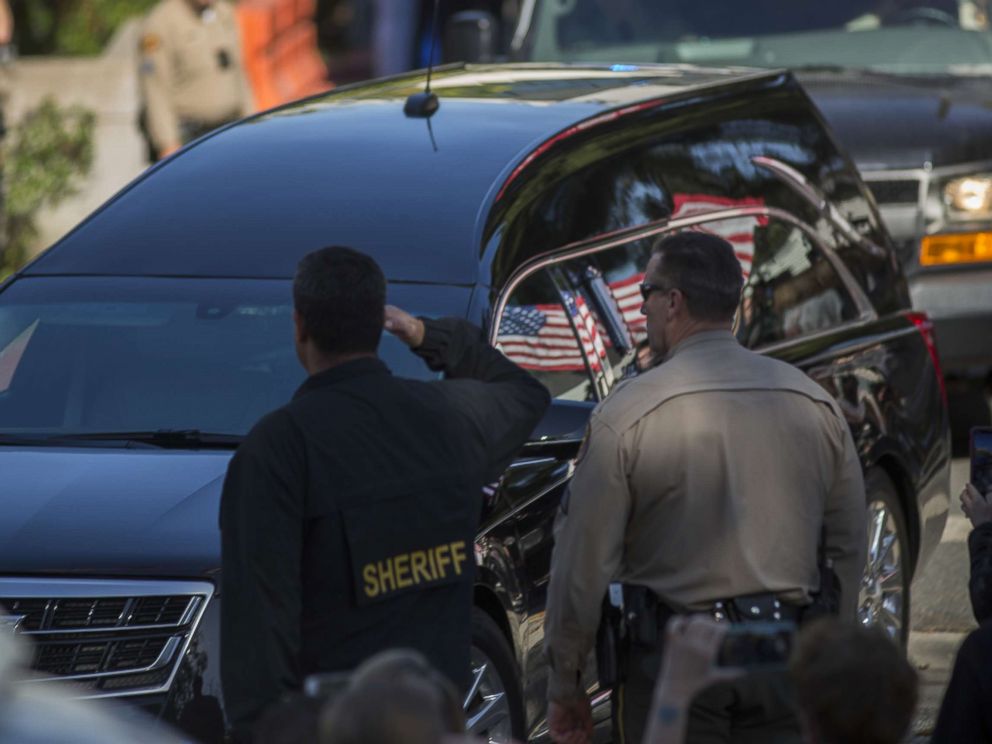 Another victim, 21-year-old Noel Sparks, was killed, the United Methodist Church in Westlake Village said in a statement on Facebook.
Blake Dingman, 21, was also killed in the shooting.
The Ventura County Medical Examiner's Office have identified all the victims and notified their families. The names of the other victims have not yet been released.
Sgt. Helus, a 29-year veteran of the Ventura County Sheriff's Office, died when he ran into the Borderline bar to confront the gunman, officials said.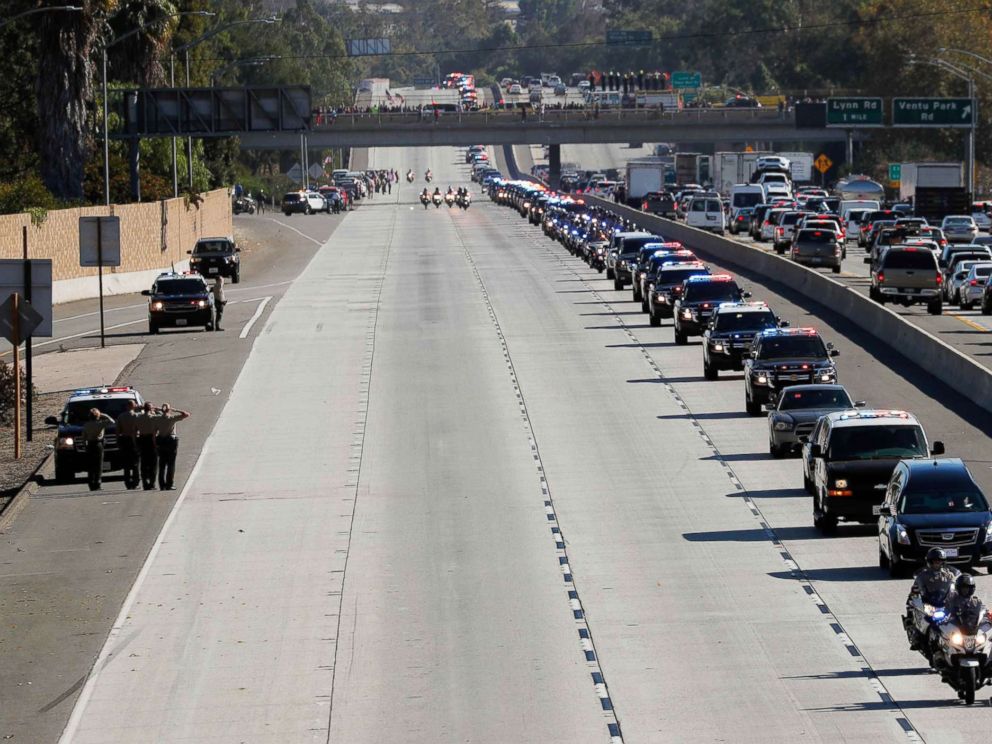 Prior to getting the call to respond to the shooting, Helus was speaking with his wife on the phone, said Ventura County Sheriff Geoff Dean.
"Hey, I got to go handle a call, I love you," Helus told his wife, according to Dean.
Helus is also survived by a son.
"He was a great man," Capt. Garo Kuredjian, a spokesman for the Ventura County Sheriff's Office, told ABC's "Good Morning America" Thursday. "He was a cop's cop, and we miss him. We miss him already and we're in mourning as an agency. We're in mourning as a community."
A vigil for the victims is scheduled to take place Thursday evening in Thousand Oaks.